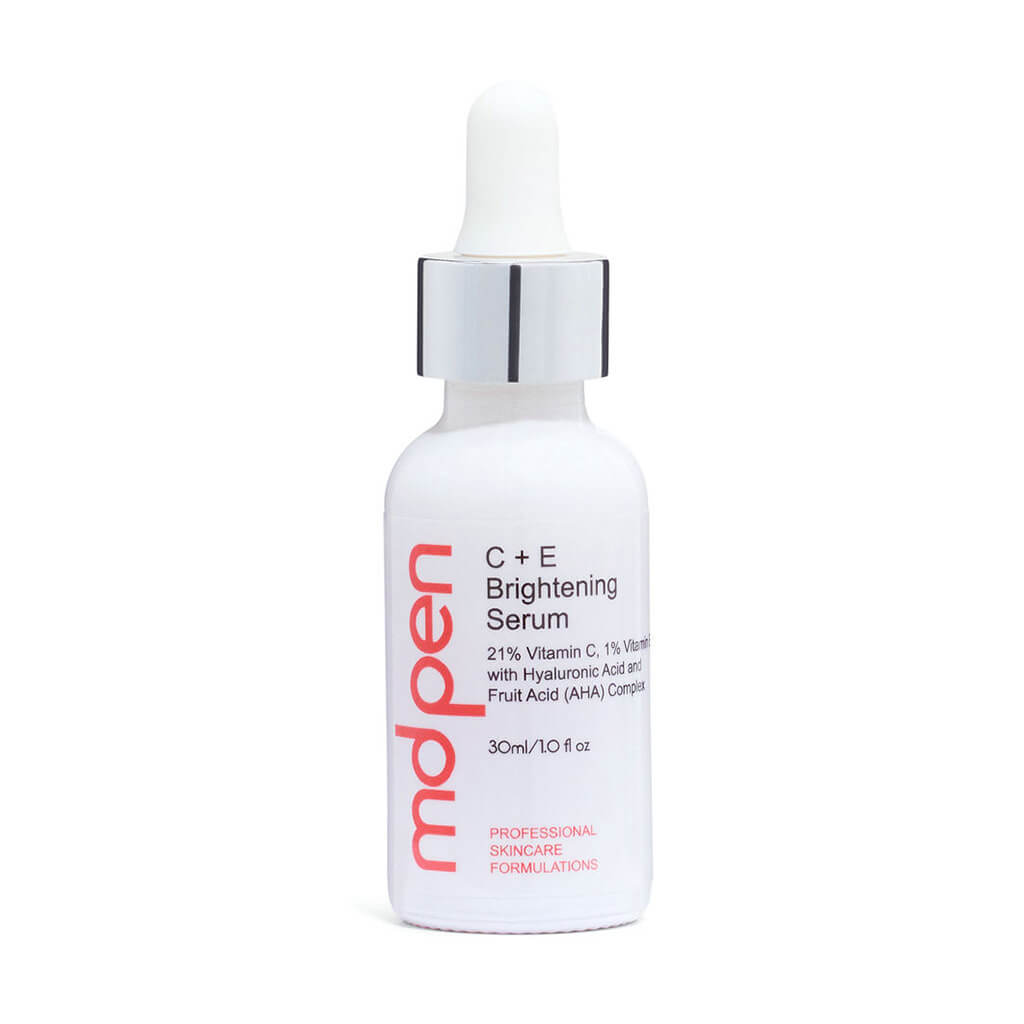 MDPen C + E Brightening Serum
1 fl oz / 30 mL
MDPen C + E Brightening Serum contains two forms of Vitamin C as well as Vitamin E to help to build collagen, defend against free-radicals, and reduce the appearance of fine lines and wrinkles. Our formula also contains hydrators like Hyaluronic Acid; powerful antioxidants from Green Tea; and brightening agents including Licorice Root, Dicrateria Rotunda, and Ruttnera Lamellosa Oil. The Fruit Acid  Complex of naturally occurring alpha-hydroxy acids (AHA) brightens and gently exfoliates for smoother, younger-looking skin.
- We ship everything via UPS Ground. 
- We charge you exactly what UPS charges us.
- We have a shipping calculator on our cart page.
- We ship Mon-Fri.
- Orders received by 9am MST Mon-Fri will go out within 2-3 business days of order date. All weekend orders are processed on Mondays.
- Please contact us at info@purebeautytelluride.com for express shipping options.
- At this time, we do not ship internationally, only U.S.
- For information regarding our returns/refund policy, please visit our Terms & Conditions page.
We have a 14-day return policy, which means you can request a return within 14 days of receiving your item. To be eligible for a return, your item must be unused and in its original packaging, and it must be in the same condition that you received it. You will also need to provide your order number and the reason for the return. To begin a return, please email us at info@purebeautytelluride.com. If your return is accepted, you must supply your own shipping label for the return shipping back to us. Items returned to us without first requesting a return will be refused. If you have any questions about returns, please email us at info@purebeautytelluride.com. A 20% restocking fee will be deducted from your refund for products returned without reason. The restocking fee is required because we do not resell returned product because we cannot guarantee its quality or freshness. Opened product returns or refunds are not accepted unless the product is deemed defective. If a product is found to be defective, a replacement will be sent along with a return label. If you do not return the original product, your credit card will be charged for the additional product.