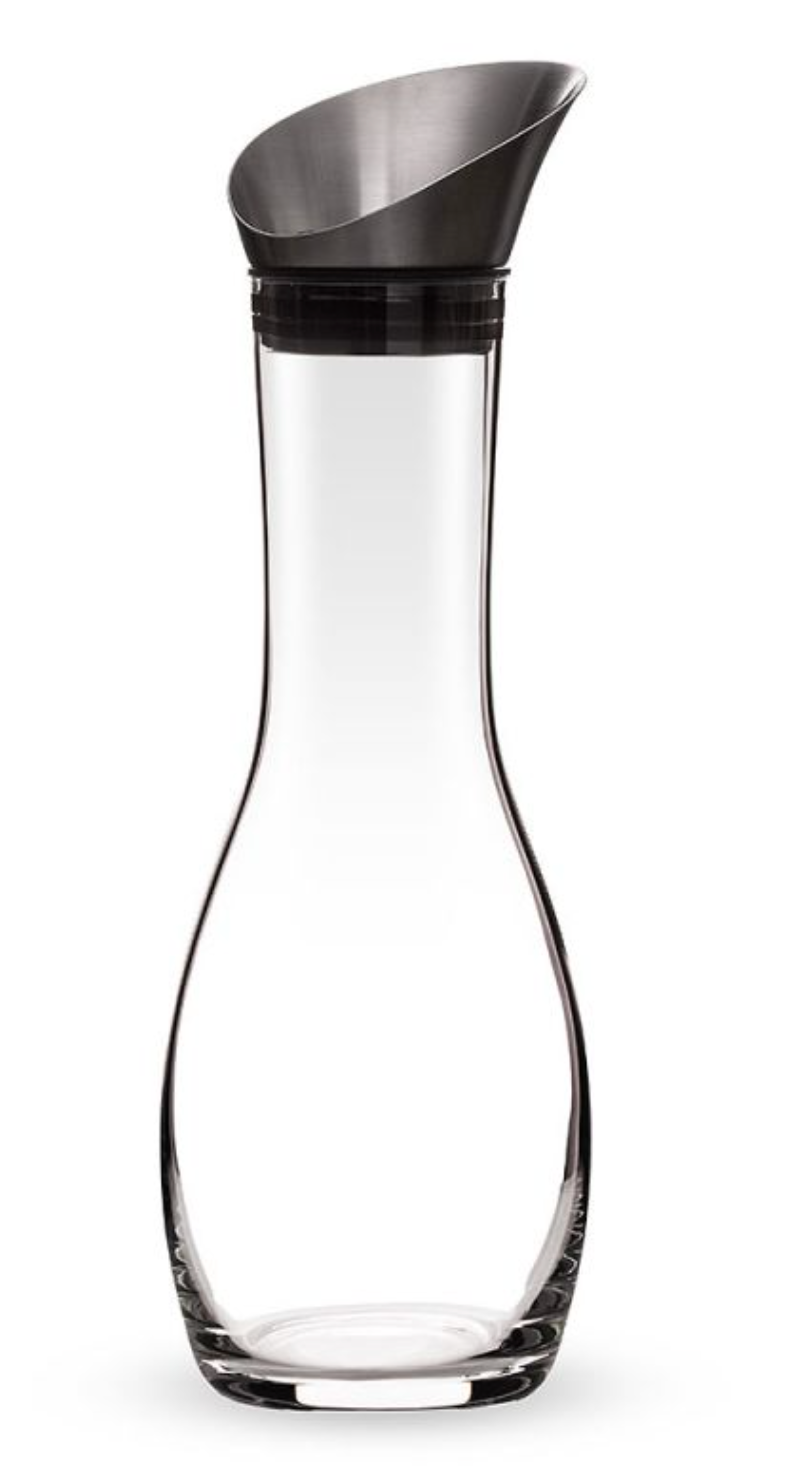 Get a Decanter Era in addition to your original VitaJuwel Gemstone Vial for the full GemWater experience. The Gemstone Vial appears to be floating inside the glass decanter, while being firmly fixed to the decanter's lid.
Era sets new standards. Instead of creating vials for regular pitchers, we started to think differently: Imagine a decanter that provides a vibrant and exclusive setting for our Gemstone Vials and maximizes usability. A decanter to start a new era in the preparation of GemWater. Imagine...
... a decanter in which the vial with its sparkling precious stones seems to be floating freely.
... a decanter that comes with a lid which does not to be taken off while pouring water.
... a decanter that preserves your VitaJuwel GemWater like no other.
... a decanter that's easy to use and is dishwasher-safe.
... a decanter that holds the gemstone vial firmly, eliminates the vial shaking and hitting the decanter and therefore reduces the risk breakage drastically.
... a decanter with an astonishing design that makes catering and serving GemWater an exciting experience and that draws the attention of all your guests.
Era (including its lid) is dishwasher-safe and holds 1.3l (44 fl.oz) of GemWater. Gemstone Vials and Decanter Era have to be purchased separately.
| | |
| --- | --- |
| EAN | 4260228312996 |
| Comes With | glass decanter, stainless steel lid |
| Dimensions & Weight | volume 1,3 Liter, height 35,5cm, diameter ca. 11cm |
| Material | heavy-metal-free glass, stainless steel, silicone |
| Care | dishwasher-proof |
- We ship everything via UPS Ground. 
- We charge you exactly what UPS charges us.
- We have a shipping calculator on our cart page.
- We ship Mon-Fri.
- Orders received by 9am MST Mon-Fri will go out within 2-3 business days of order date. All weekend orders are processed on Mondays.
- Please contact us at info@purebeautytelluride.com for express shipping options.
- At this time, we do not ship internationally, only U.S.
- For information regarding our returns/refund policy, please visit our Terms & Conditions page.
We have a 14-day return policy, which means you can request a return within 14 days of receiving your item. To be eligible for a return, your item must be unused and in its original packaging, and it must be in the same condition that you received it. You will also need to provide your order number and the reason for the return. To begin a return, please email us at info@purebeautytelluride.com. If your return is accepted, you must supply your own shipping label for the return shipping back to us. Items returned to us without first requesting a return will be refused. If you have any questions about returns, please email us at info@purebeautytelluride.com. A 20% restocking fee will be deducted from your refund for products returned without reason. The restocking fee is required because we do not resell returned product because we cannot guarantee its quality or freshness. Opened product returns or refunds are not accepted unless the product is deemed defective. If a product is found to be defective, a replacement will be sent along with a return label. If you do not return the original product, your credit card will be charged for the additional product.