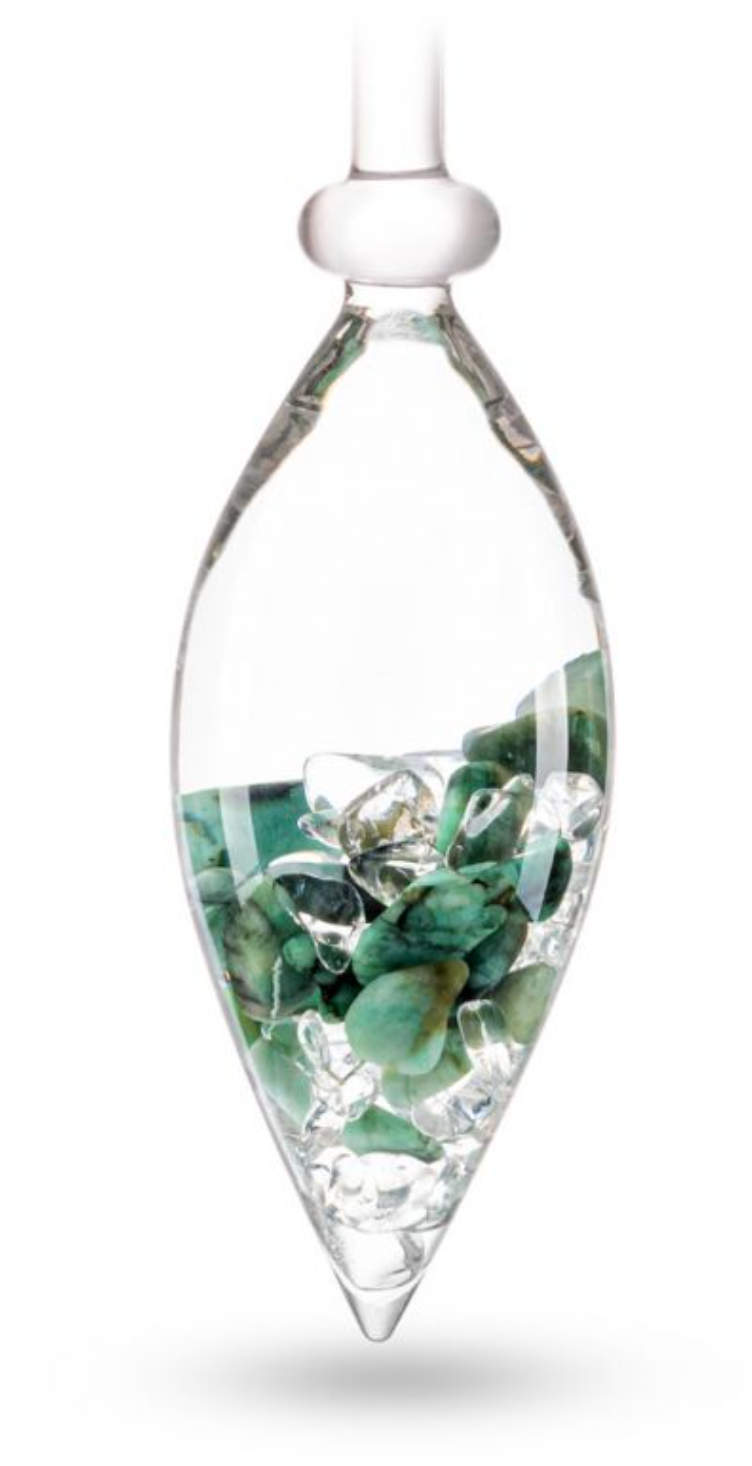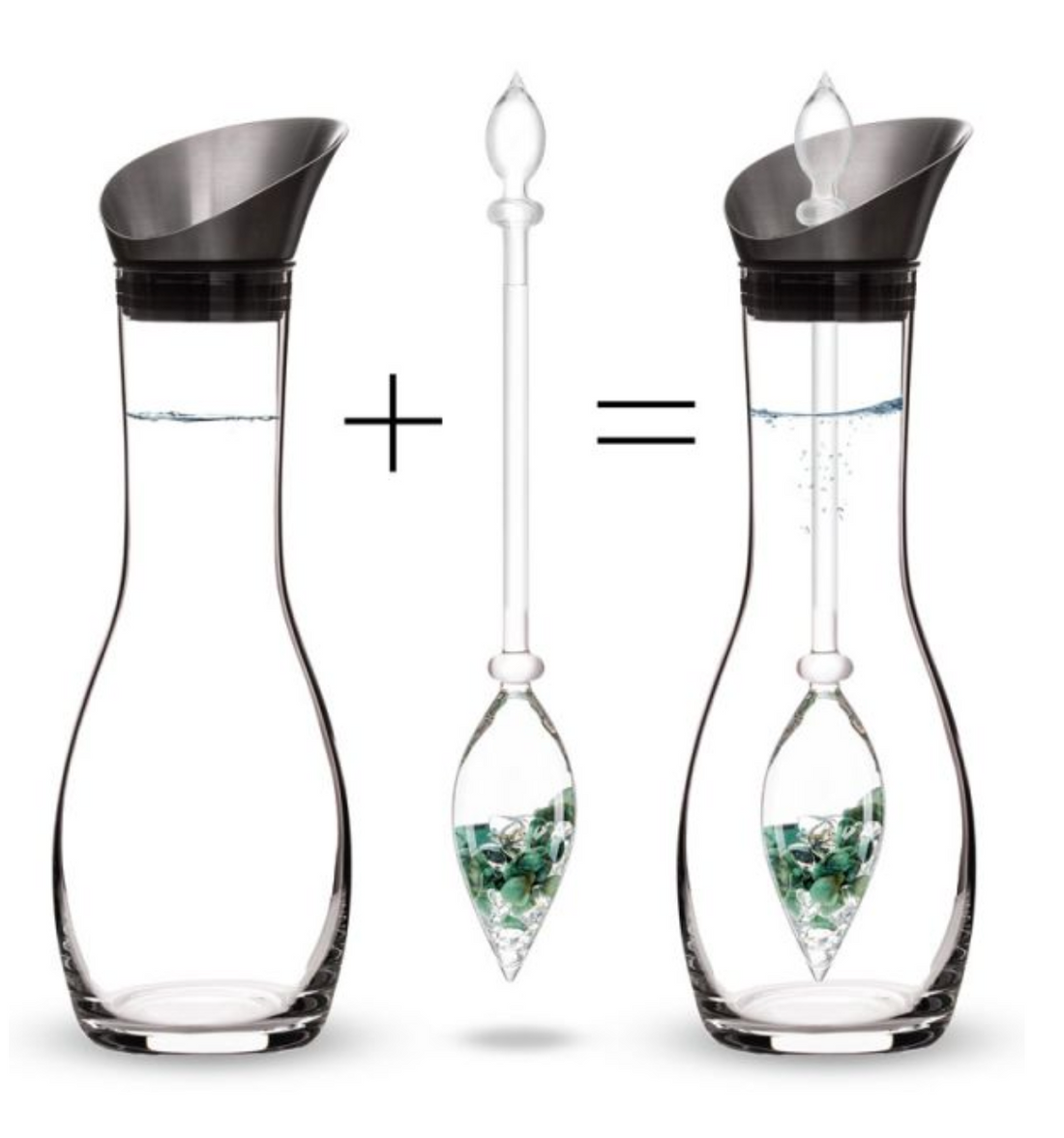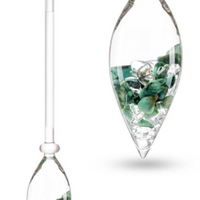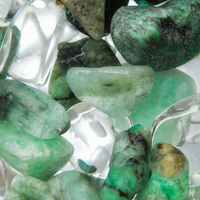 Vita Juwel Gemstone Vial Vitality
emerald - clear quartz
A hand-crafted glass wand with a blend of precious stones to vitalize your drinking water. Good for
REGENERATING - REJUVENATING - RENEWAL
Our Gemstone Vials are traditionally hand-crafted in a patented, artisanal method by master glassblowers in Bohemia, using lead-free glass and hand-picked gems. They come in 12 carefully selected gemstone blend variations, based on ancient crystal healing traditions.
The 11th-century abbess and healer Hildegard of Bingen declared in her writings: "All the green of nature is concentrated within the Emerald." Emerald is a crystal of the heart. It stands for renewal and regeneration like no other. This lush "growth crystal" has been a source of fascination in several cultures for over six thousand years and was considered a symbol of eternal life in ancient Egypt. Many believe emerald to have rejuvenating and restoring effects. It is also said to promote self-esteem. Drink emerald-infused GemWater and become vital. Naturally!

| | |
| --- | --- |
| EAN | 4260228310046 |
| Crystal Virtues | Intuition, Imagination, Wisdom, Love, Harmony, Balance, Self-Confidence, Willpower, Inner Strength |
| Comes With | gemstone vial |
| Dimensions & Weight | length ca. 35cm., diameter ca. 5cm |
| Material | borosilicate glass, gemstones |
| Care | handwash |
- We ship everything via UPS Ground. 
- We charge you exactly what UPS charges us.
- We have a shipping calculator on our cart page.
- We ship Mon-Fri.
- Orders received by 9am MST Mon-Fri will go out within 2-3 business days of order date. All weekend orders are processed on Mondays.
- Please contact us at info@purebeautytelluride.com for express shipping options.
- At this time, we do not ship internationally, only U.S.
- For information regarding our returns/refund policy, please visit our Terms & Conditions page.
We have a 14-day return policy, which means you can request a return within 14 days of receiving your item. To be eligible for a return, your item must be unused and in its original packaging, and it must be in the same condition that you received it. You will also need to provide your order number and the reason for the return. To begin a return, please email us at info@purebeautytelluride.com. If your return is accepted, you must supply your own shipping label for the return shipping back to us. Items returned to us without first requesting a return will be refused. If you have any questions about returns, please email us at info@purebeautytelluride.com. A 20% restocking fee will be deducted from your refund for products returned without reason. The restocking fee is required because we do not resell returned product because we cannot guarantee its quality or freshness. Opened product returns or refunds are not accepted unless the product is deemed defective. If a product is found to be defective, a replacement will be sent along with a return label. If you do not return the original product, your credit card will be charged for the additional product.