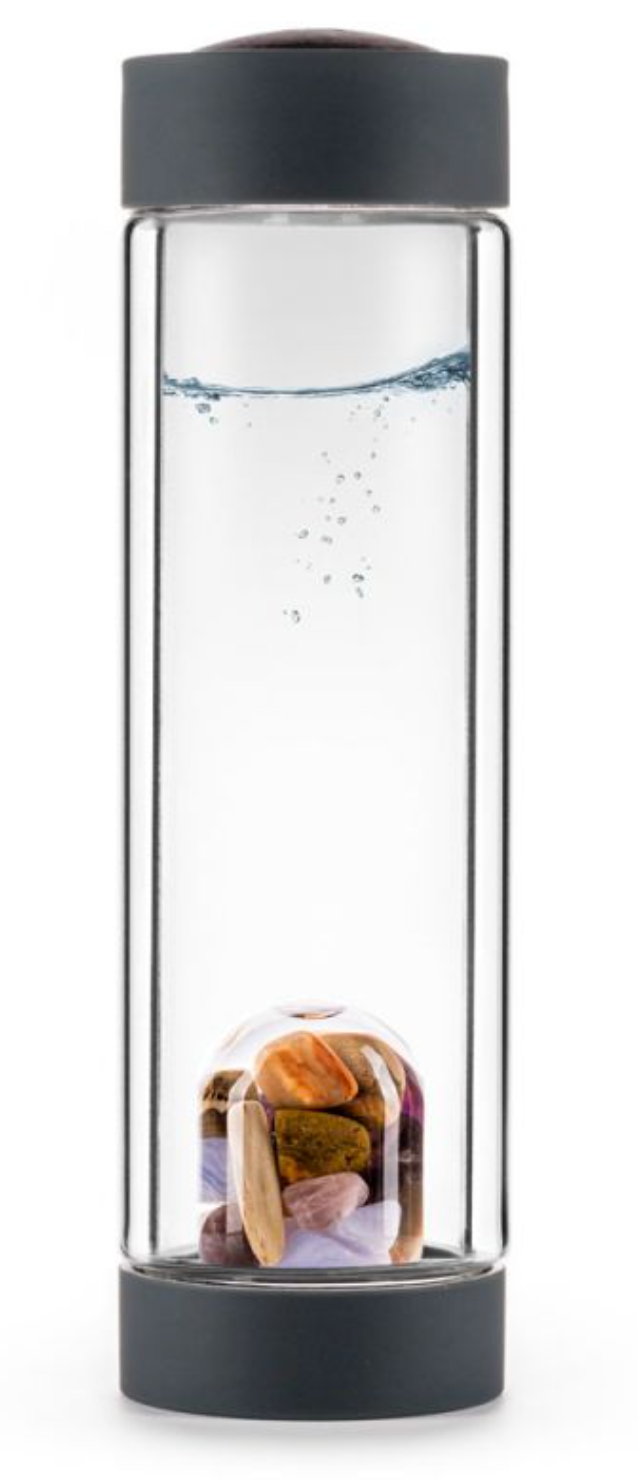 VitaJuwel Via Heat 5 Elements | Insulated Crystal Infusion Water Bottle
THE HEAT IS ON. This Crystal Infusion Bottle with genuine gems features lab-quality, double-walled glass for insulation. Enjoy the sparkle of your favorite gemstone blend inside the bottle while brewing your tea on-the-go with the (optional) extra-large tea strainer. Stays cool to the touch. Crystal vibes for your hot or cool drink. Engineered in the German Alps. Made in Germany.
THE PERFECT TEMPERATURE. Thermal shock resistant, double-walled glass insulates cold and hot drinks. Stays cool to the touch.
NEXT LEVEL TEA-TO-GO. Enjoy your loose leaf tea with the (optional) large capacity, stainless steel tea strainer.
DIVERSE. Choose one of 13 traditional gemstone blends.
FLEXILID™. Open you bottle with ease while your drink is still warm.
VERSATILE. Use the glass insert of your regular ViA bottle for ViA HEAT. They are fully compatible.
SUSTAINABLE. Stop using paper cups from your coffee shop and let them fill your ViA HEAT instead.
CRYSTAL VIBES. Our 12.2 fl.oz. insulating glass bottle with a holistic blend of genuine crystals is the perfect companion to infuse your warm or cool drink with positive energy on-the-go. Naturopathic doctors have been using the vibrant energy of precious stones to prepare potent crystal elixirs for their therapies for many years. With the help of gemologists and naturopaths we've reinterpreted this tradition and created a select number of unique crystal blends aimed at specific crystal attributes.
5 ELEMENTS. Traditional Chinese medicine has developed over 5,000 years and sees health as a harmonious balance of five elements: Wood for growth, water for reflection, earth for grounding, metal for strength and fire for passion. Every person is a unique blend of these elements. Following this ancient philosophy, we have included one kind of gem for each element in this blend to reflect each attribute.
| | |
| --- | --- |
| EAN | 4260228314235 |
| Comes With | glass bottle | silicone lids with FlexiLid™ technology | removable GemPod |
| Dimensions & Weight | volume 12.2 fl.oz. | height 8.86 in | diameter 2.76 mm |
| Material | borosilicate, lead-free glass | genuine gemstones | silicone | bpa-free plastic (washers) |
| Care | glass cylinder dishwasher-proof, handwash lids and gempod, disassemble gempod before cleaning |
- We ship everything via UPS Ground. 
- We charge you exactly what UPS charges us.
- We have a shipping calculator on our cart page.
- We ship Mon-Fri.
- Orders received by 9am MST Mon-Fri will go out within 2-3 business days of order date. All weekend orders are processed on Mondays.
- Please contact us at info@purebeautytelluride.com for express shipping options.
- At this time, we do not ship internationally, only U.S.
- For information regarding our returns/refund policy, please visit our Terms & Conditions page.
We have a 14-day return policy, which means you can request a return within 14 days of receiving your item. To be eligible for a return, your item must be unused and in its original packaging, and it must be in the same condition that you received it. You will also need to provide your order number and the reason for the return. To begin a return, please email us at info@purebeautytelluride.com. If your return is accepted, you must supply your own shipping label for the return shipping back to us. Items returned to us without first requesting a return will be refused. If you have any questions about returns, please email us at info@purebeautytelluride.com. A 20% restocking fee will be deducted from your refund for products returned without reason. The restocking fee is required because we do not resell returned product because we cannot guarantee its quality or freshness. Opened product returns or refunds are not accepted unless the product is deemed defective. If a product is found to be defective, a replacement will be sent along with a return label. If you do not return the original product, your credit card will be charged for the additional product.